By admin | Published: February 22, 2015
Larsen Contracts to carry out the Concrete Repair to Cregagh Flats in  Belfast.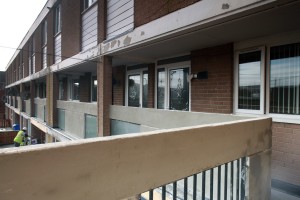 The Northern Ireland Housing Executive have appointed Larsen Contracts as main contractor for the Façade Refurbishment , Concrete Repair and Cathodic protection works to the Cregagh Road Flats,  the dwelling will remain occupied during the work which will be completed over a  16 week programme. Larsen carried out a full inspection survey of all reinforced  concrete elements to identify the areas of defective concrete, the removal of the defective concrete by mechanical breaker.
The installation of Cathodic protection Cathodic Protection at Cregagh Flats using Duoguard Patchguard sacrificial anodes will provide  a long term solution to the corrosion, reinstatement of the concrete elements will be via hand placed and flowable factory blended pre bagged mortars.  The re-joining of the expansion joints and repointing of some brickwork panels will also be undertaken during the contract. 
The entire structure will be treated with a protective anti carbonation coating from Sika. Work will be carried out to EN 1504 the European standard for concrete repair.
Also posted in
Concrete Repair
,
Public Sector
,
Uncategorized
| Tagged
cathodic Protection
,
concrete repair
,
en1504
,
Patchgauard
,
sacrificail anode
,
sika
| Comments are closed.