By admin | Published: October 02, 2012
New Project Manager for Larsen Contracts Larsen Contracts have recently appointed a new Project Manager for it's Republic of Ireland Division. Brian Power has recently returned from Australia and has over 8 years' experience in Construction Management and Surveying. He holds a BSc Construction Management from Waterford Institute of Technology. Brian will be responsible for managing specialist contracts which will includes pricing, surveying, resource management, health and safety and liaison with Clients across a wide range of contracts from Concrete Repair,  Structural Waterproofing to Resin Flooring  applications for Commerce and Industry.  
[caption id="attachment_1376" align="aligncenter" width="150"]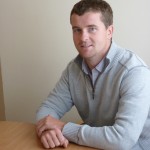 Brian Power [/caption]
Also posted in
Uncategorized
| Tagged | Comments are closed.