By admin | Published: July 02, 2014
Kilfera Foods Resin Flooring Installation
Kilfera Food Manufacturers Ltd is a Food Ingredient company, specialising in the formulation, blending and marketing of bespoke food and feed Ingredients based primarily on Milk Powders, as well as producing Gluten Free foods.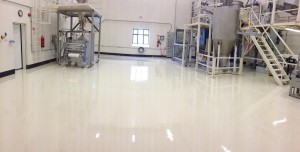 Maintaining BRC Global standards for Food safety in the Food Industry are vital to continued success of Food manufacturers in the supply chain and a crucial element of this would include the maintenance and upkeep of Anti slip, Hygienic, Seamless and durable flooring to withstand the vigours of Food Production. Larsen Contracts specialise in the area of Food grade Resin flooring for the Food industry
Larsen Contracts undertook repairs for Kilfera Foods to an existing high build epoxy floor of 136m2 using an epoxy mortar to fill in damaged areas. The floor area was them mechanically prepared using diamond grinder under vacuum .Two roller coats of Remmers high build Epoxy Resin PH were used and a bespoke colour was selected to match the existing floor .
The works were completed over a weekend to avoid disruption to production.
Also posted in
Client Sectors
,
Food Industry
,
News
| Tagged
Epoxy Resin Floor
,
food grade flooring
,
resin flooring
| Comments are closed.