By admin | Published: May 09, 2012
May 9th 2o12 Larsen delivers Supervalu ! The Singletons Supervalu store in Hollyhill,Cork has recently completed a major extension and refurbishment, including the installation of a Degafloor MMA resin flooring system.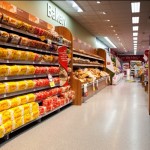 The store, part of the hugely successful Musgrave Retail Partners programme, had been heavily over trading and was in desperate need of extra retail space and a re-fresh of the store design.   However, as the store needed to continue to trade throughout the works, it was essential that a highly experienced contractor was appointed to handle the size and complexity of the project.  Accordingly, the client decided to appoint Larsen Contracts, one of the best known specialist flooring contractors inIreland, to all flooring works, including screeding and resin finishes. After initial consultation, site assessment and approval by Musgrave's store development team, Larsen Contracts installed two different types of Degafloor MMA resin flooring within the store.   Degafloor's ultra fast curing decorative flake system was adopted the main store areas, where speed of installation, durability and aesthetics were amongst the top priorities. All food preparation and servery received the Degafloor FB system, which provides a heavy duty, slip resistant finish.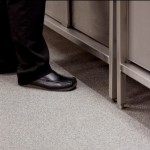 The unique chemical bonding which is characteristic of all Degafloor MMA resin flooring systems, guarantees superb performance and durability, whilst the seamless finish eliminates the cracks and joints that can harbour dirt and food spills, making the floors hygienic, easy to clean and particularly attractive for a retail environment. Larsen Contracts installed more than 1100m2 of flooring in phases over 5 visits, each being completed during a short 9pm to 7am period, ensuring absolute minimal disruption to the client and their customers.  Each phase was completed within the 'live shop' including all preparatory works, so at the start of every shift extensive preparation work was undertaken, including stripping out temporary fixtures, relocating stock and screening all stock.   At the end of each shift, the workspace was dis-assembled and the store re-merchandised for the day ahead, only for the cycle to start again the next night. The project was a completed on time and is a huge success, with Singletons Supervalu now welcoming even more customers to their impressive new store.      
Also posted in
Uncategorized
| Tagged | Comments are closed.