By admin | Published: December 05, 2011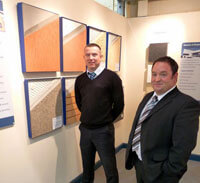 Larsen Contracts has just announced a new supplier partnership with Structherm Ltd (part of the Hanson Heidelberg Cement Group group) which will deliver thermal efficiencies in refurbishment of Social Housing and other buildings. A team of five personnel from Larsen Contracts recently underwent an intense training course for approved contractor training of the Structherm Structural Cladding System and External Wall Insulation. The unique Structherm Structural Insulated Cladding system is a cost effective method of extending the life of a defective building. It provides a rigid, structurally continuous envelope around the building with a render finish and is a real alternative to demolition. External Wall Insulation (EWI) used for building refurbishment comes with a variety of CFC and HCFC free insulants, providing a high degree of thermal efficiency, vapour permeability and impact resistance. Larsen Contracts who have over 30 years' experience in the discipline of Concrete Repair and other specialist contracting services are now very well placed to deliver a one stop solution either as main or sub-contractor in a variety of refurbishment projects from high rise and low rise social housing to schools ,colleges and commercial buildings . Strutherm's Marketing Director Yvonne Coldwell said "Larsen Contracts were chosen as an approved installation Contractor ( AIC) as they offer an established, highly skilled and professional work force with relevant skills and experience in our target markets " Mark Murphy of Larsen Contracts commented, "With the government's commitment to Carbon Reduction through recent and upcoming legislation requiring improvements in the thermal efficiency of buildings, there is a high demand for these Structherm products. External wall insulation and Structural cladding are a particularly good fit for our wide experience in Concrete Repair and balcony water proofing and other ancillary services in the social housing sector."
Also posted in
News
| Tagged | Comments are closed.